Going on vacation is always great especially during the holidays. Being able to take your dog along with you on your travels is even better!
However, without the proper preparation, traveling with your dog can be stressful.
Here are a few tips on how you can make traveling with your dog stress-free and enjoyable for everyone.
Health Checks
First and foremost, you need to make sure your dog is fit, healthy, and able to travel.
Schedule a visit to the vet before traveling with your dog.
Make sure they get all the dog's shots up to date.
If needed, you can also obtain the necessary health certificates that are needed for certain travels.
Traveling with your dog can sometimes be stressful for your fur baby, especially if it's their first time.
To make traveling with your dog more comfortable for him or her, we recommend you pack your dog's regular food and favorite treats.
If your dog has a special toy or blanket, place it in their dog travel crate as well.
By bringing things your dog is familiar with, they'll feel more comfortable while traveling.
Traveling Dog Crates
Keeping everyone safe on an extended family vacation is priority number one.
The same priority applies when traveling with your dog.
If you're traveling by car, dog crates are the best way to ensure that your dog remains safe while the vehicle is moving.
Keeping your dog in a crate also prevents your dog from wandering into areas it's not allowed at your accommodation.
Also, dog crates are mandatory for air travel.
You can purchase a dog travel crate at pet stores or online.
When purchasing your dog travel crate, it's vital the crate is big enough for the dog to move, stand and turn around.
All dog travel crates must have handles for ease of carrying, and it's important the dog travel crate has enough ventilation with holes on opposite ends of the crate to allow for ease of air flow.
Temperatures can easily sore when traveling by car or airplane.
Also, ensure that the dog travel crate has a leak-proof bottom with absorbent material.
You don't want any nasty accidents on your journey.
It's important to clearly mark the travel crate with a "Live Animal" sticker, with arrows showing the correct upside.
The dog travel crate must also have your name and contact details very clearly displayed, especially when you are traveling by air.
Proper Identification
Before you travel with your dog, be sure that your dog displays your contact information on its collar.
Preparing yourself for any occurrence when traveling with your dog is vital to ensuring a pleasant vacation for all.
If you can, get your dog electronically chipped and have a recent picture of your dog on your mobile phone.
Traveling with Your Dog in the Car
Before you go on a long road trip with your dog, allow some time before the vacation for your dog to become accustomed to the car.
Some dogs get terribly car sick on their first car journey.
You can start off by allowing the dog in the car while stationary and slowing introducing little trips around the neighborhood until your dog is comfortable with car travel.
For pets that are anxious or are generally very nervous, you can ask your vet for a pet sedative to help calm your dog during the car journey.
It's important to make sure your vehicle has enough space for your family and a travel crate.
Don't place the dog travel crate in a space with no ventilation or light.
In a situation where it's only you and your dog, some companies have amazing innovations for dog travel in a car.
You can purchase these recommended dog safety belts and dog booster seats on Amazon.
So there is no reason why your dog needs to be cooped up in a dog travel crate and not enjoy the views outside.
Never, under any circumstance, leave your dog alone in a stationary vehicle.
In the summer, a car can experience a rapid rise in extreme temperatures.
Always designate a family member to stay with the dog, outside the vehicle, and on a leash if you need to stop for any amount of time.
Traveling with Your Dog on an Airplane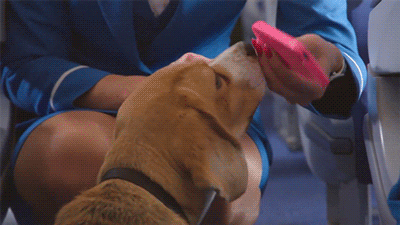 Every airline has their own set of rules for owners who are traveling with a dog.
Always inquire about their rules and regulations before purchasing a ticket.
You can call the airline directly or find more information on their website.
For most airlines, when traveling with a dog, you need to place them in an airline approved dog travel crate and checked in as cargo.
Some airlines allow small dogs to travel on board in a crate that can be placed under your seat.
At times of extreme weather, hot or cold, some airlines will refuse to allow dogs to travel via airplane as it could prove hazardous to the dog.
Always check with the airline before you travel with your dog, even a day or a few hours before your flight.
Other Means of Travel
Train and bus travel might prove difficult as most services only allow service dogs.
However, as with the airlines, some services do allow you to travel with a dog and have their own rules and regulations.
Some cruise lines allow you to travel with a dog. Some even make a special effort for them by providing special sleeping arrangements for your dog and free meals.
However, each cruise liner has their own rules for dog travel.
Inquire with them directly to find out whether they allow you to travel with your dog or not.
Accommodation
Every hotel and resort has their own rules and regulations with regards to allowing dogs to stay.
Some don't allow dogs at all and others may have size restrictions.
It's always best practice to find out ahead of time which hotels and motels along your route or at your final destination allow dogs.
Once you've found the perfect place, always respect other guests and the establishment by keeping your dog quiet.
Don't give them free reign in the resort. Although some hotels allow dogs, they have strict rules and regulations managing their stay.
Please ensure that you adhere to them.
Also, always pick up your dog's mess and ask the management where you can walk your dog, as they might not allow dogs access everywhere on the premises.
If your dog has separation anxiety, then traveling with your dog can be a bit more difficult.
We recommend you find a local dog sitter to take care of your dog while you're away for an extended period.
You can use apps such as Rover or Wag to find someone to take care of your dog.
There are different options where the dog sitter can come to where you're staying, or you can drop them off.
Leaving a dog who has separation anxiety alone in a hotel room can become a liability to you if they destroy the hotel room or make too much noise, which can disturb guests.
When traveling with a dog, you'll need to plan accordingly so that your dog is never left alone for any period.
Pet owners are often curious about how they can travel with their dogs, but it doesn't have to be hard or stressful with the right amount of planning and preparation.
Always inquire with the service providers beforehand and make sure your dog is healthy and fit for travel.
Have any tips to make traveling with your dog easier? Comment below!